Pittsburgh Shorts is a film festival that occurs in Pittsburgh, Pennsylvania, every year. Pittsburgh Short 2019 occurred in SouthSide Works Cinema, highlighting over 200 short films from over 30 countries. This poster is designed to inform people about the films that were shown on Friday, November 1st of 2019. 
The goal of this project is to explore typographic variables in clarifying a message based on the content's hierarchy using various color, image, and type size.
00. History of Pittsburgh Shorts
Pittsburgh Shorts started in 2017 and has been occurring every year since then. This year's Pittsburgh Shorts is from November 1st to 7th at Southside Cinema and is showing over 110 films from 33 countries. Pittsburgh Shorts is also showing local Pittsburgh or Pennsylvania related films, such as 

Dream Homes According to Kids: Milo

 and 

The Return

. The tickets $20 for the opening night and $10 for other nights. The audience demographics is mostly older Caucasian male and female, mostly forty and over.
01. 
Experience
 the Pittsburgh Shorts
​​​​​​​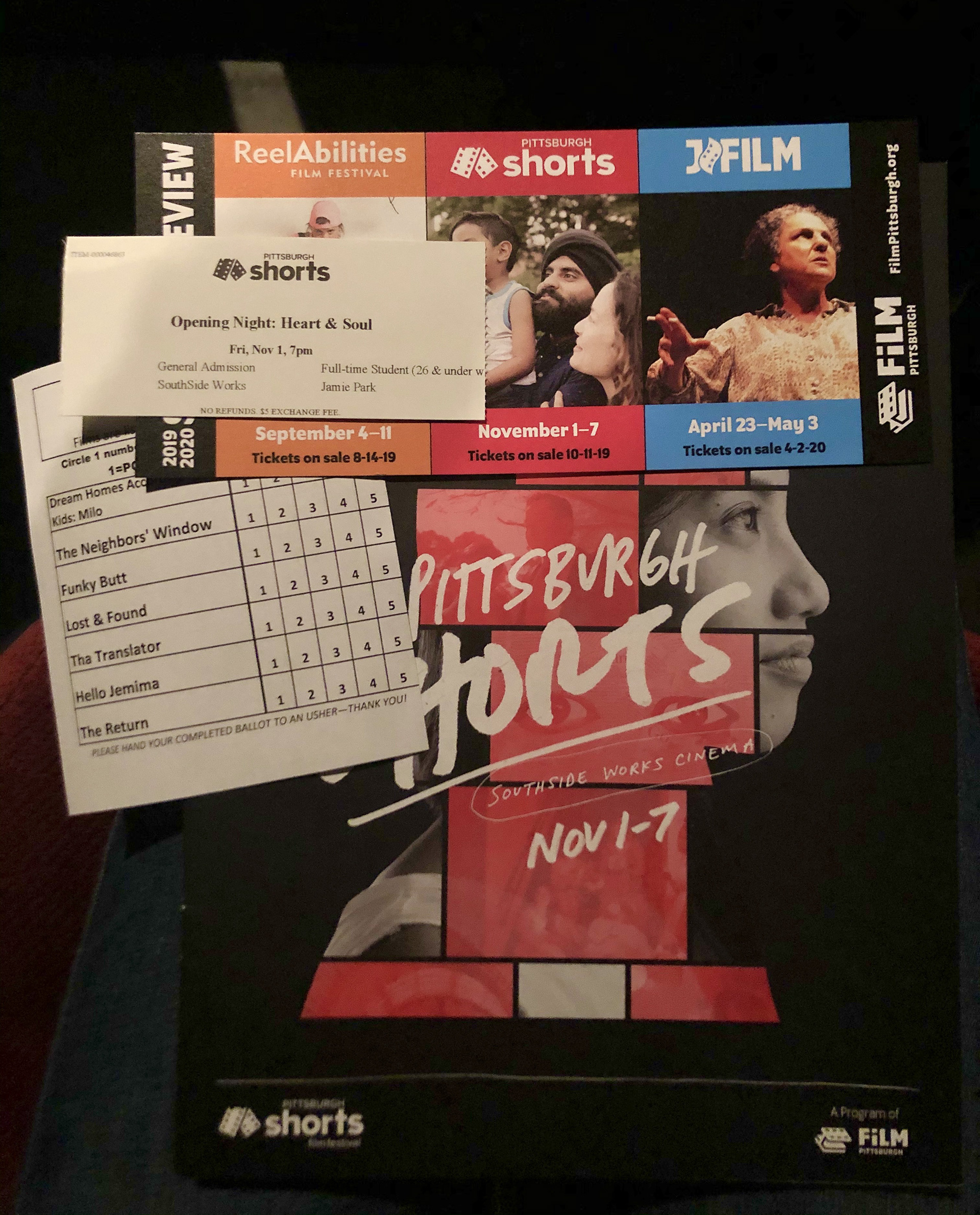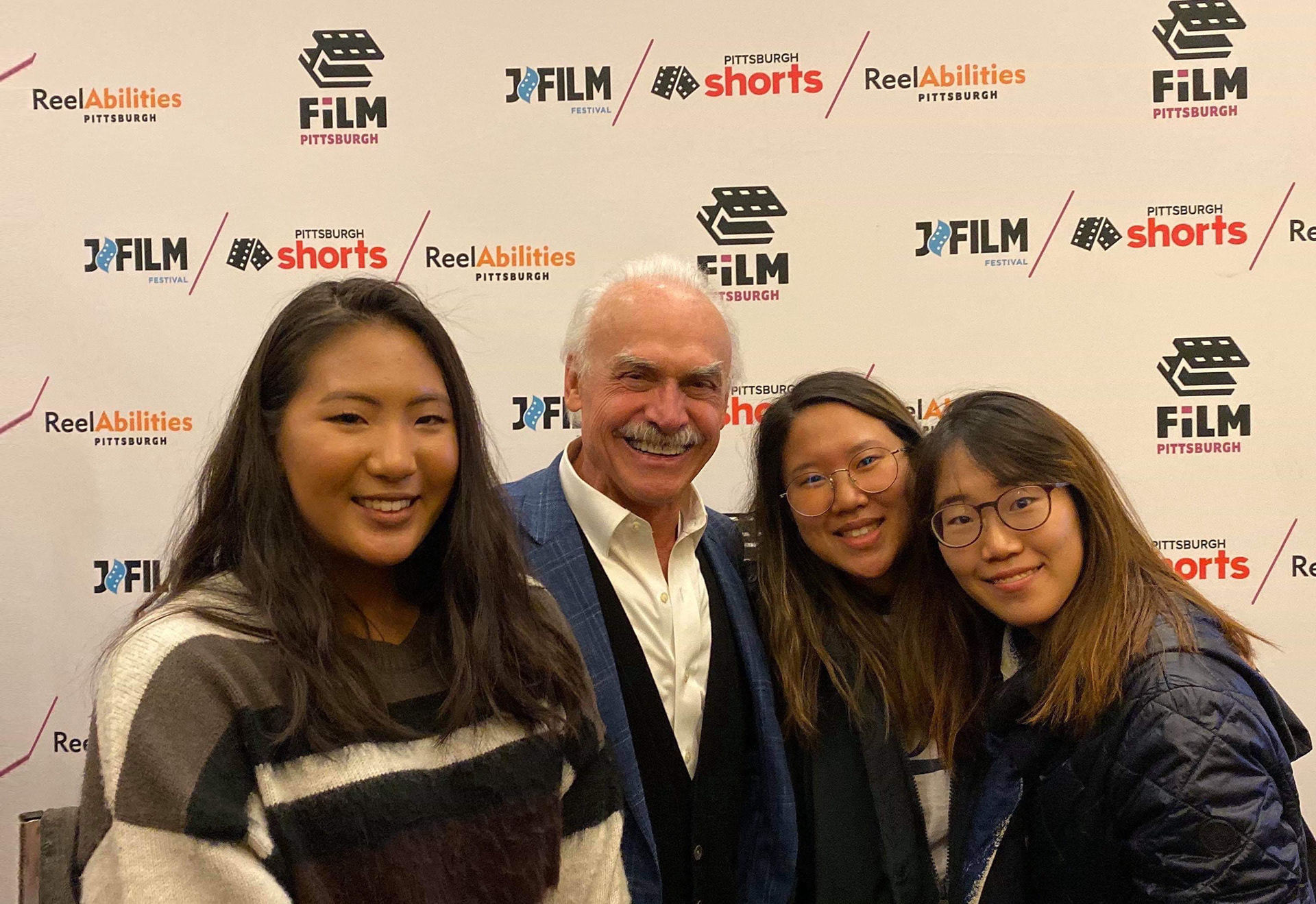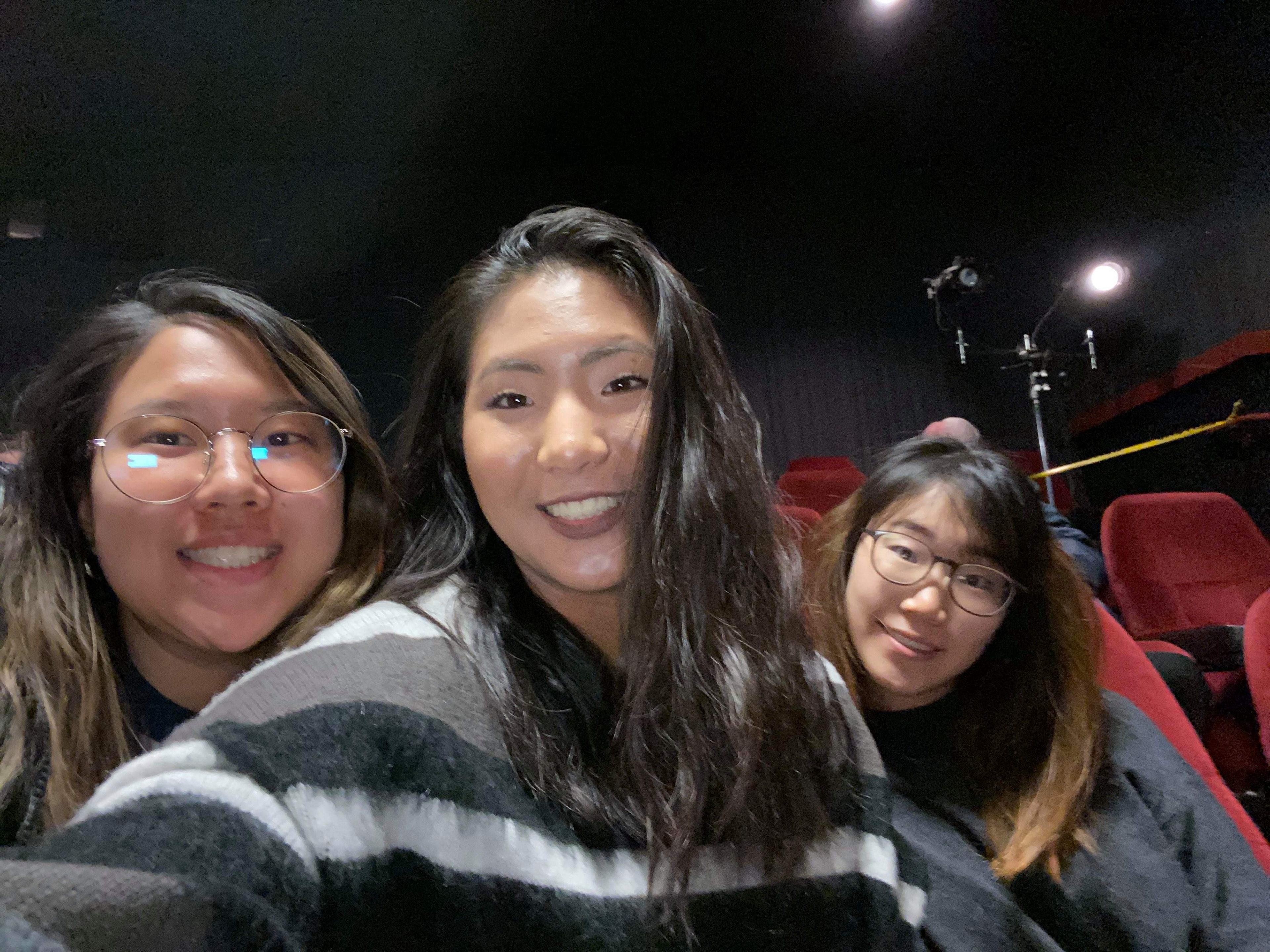 I really enjoyed the opening night of the short film festival. The films were carefully crafted and had quality content. During about hour and fourty-five minutes of showing time, seven diverse short films were played. After followed a QnA session by a former Steelers player Rocky Bleier (the man in the photo!), the producer of the documentary about Bleier, a child name Milo who featured his voice in one of the short films, and the producer of that film. Then was finger food catering. The entire event took about three hours and I went back home around ten. If it did not have the followup, however, the film would have taken less than two hours.
02. Visual 
Hierarchy
 Exercise: Typographic elements, color & scale
I worked on the hierarchy assignment based on an already-given text. The assignment challenged me to to explore information hierarchy of preexisting text by manipulating three different features of text: stroke weight, line spacing, and horizontal shift (margins).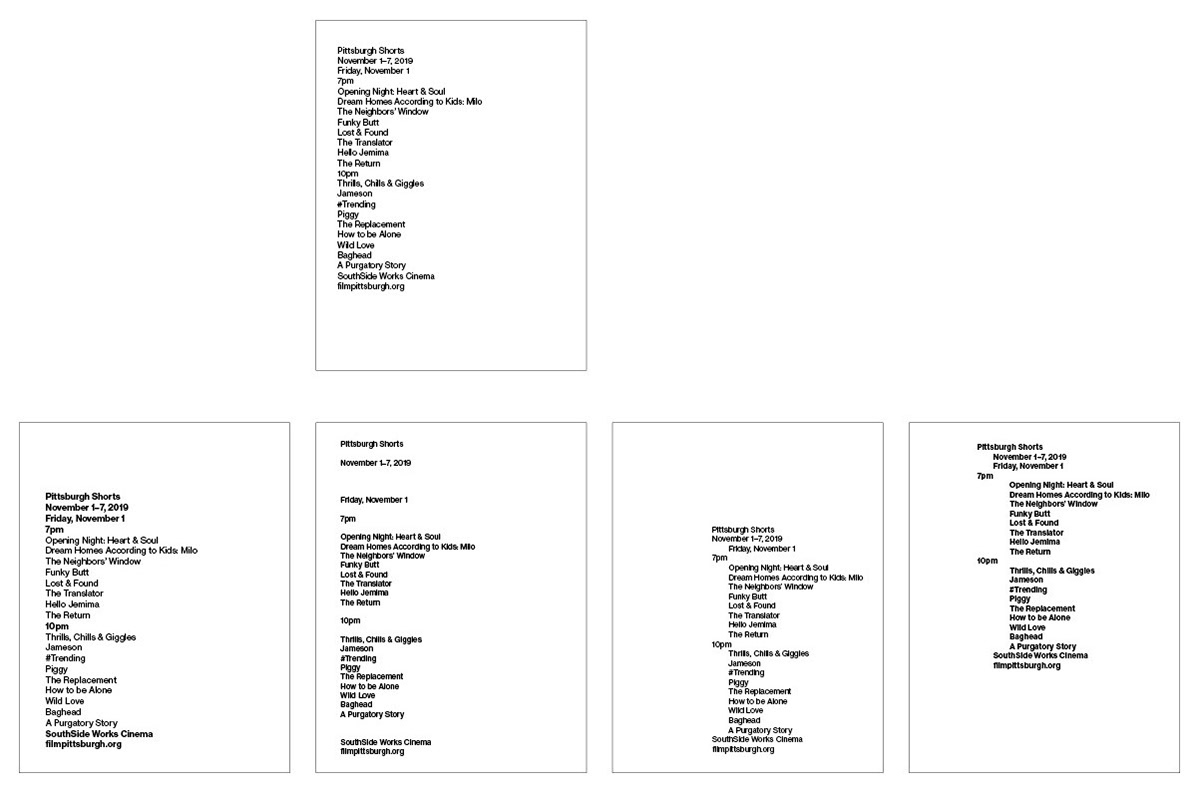 Then I was asked to explore hierarchy using color combinations. To understand the existing limits of CMYK print, I ripped out colored pages from multiple magazines and organized into different color swatches. After exploring with over 30 color strips, I landed on the color combinations below.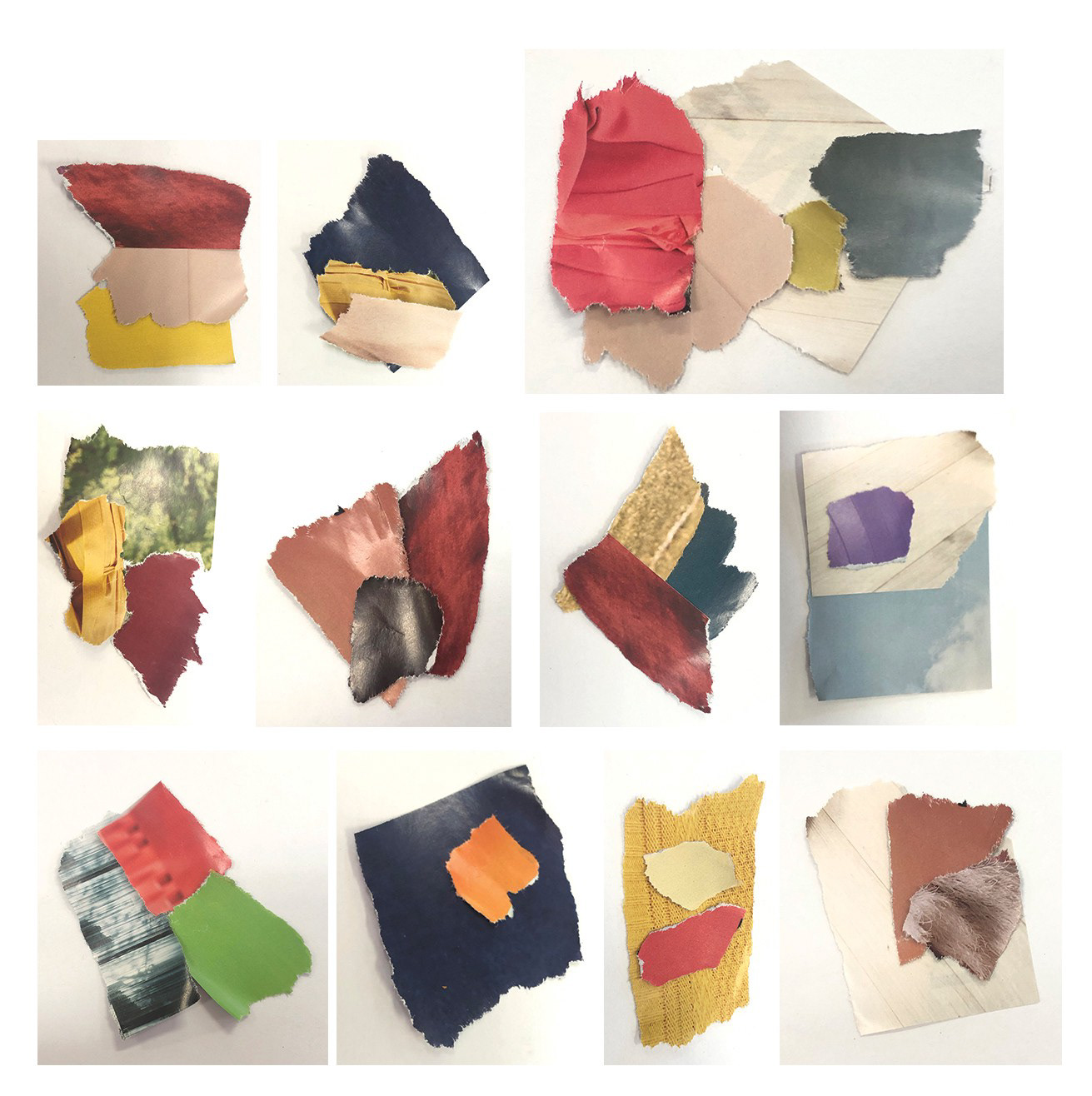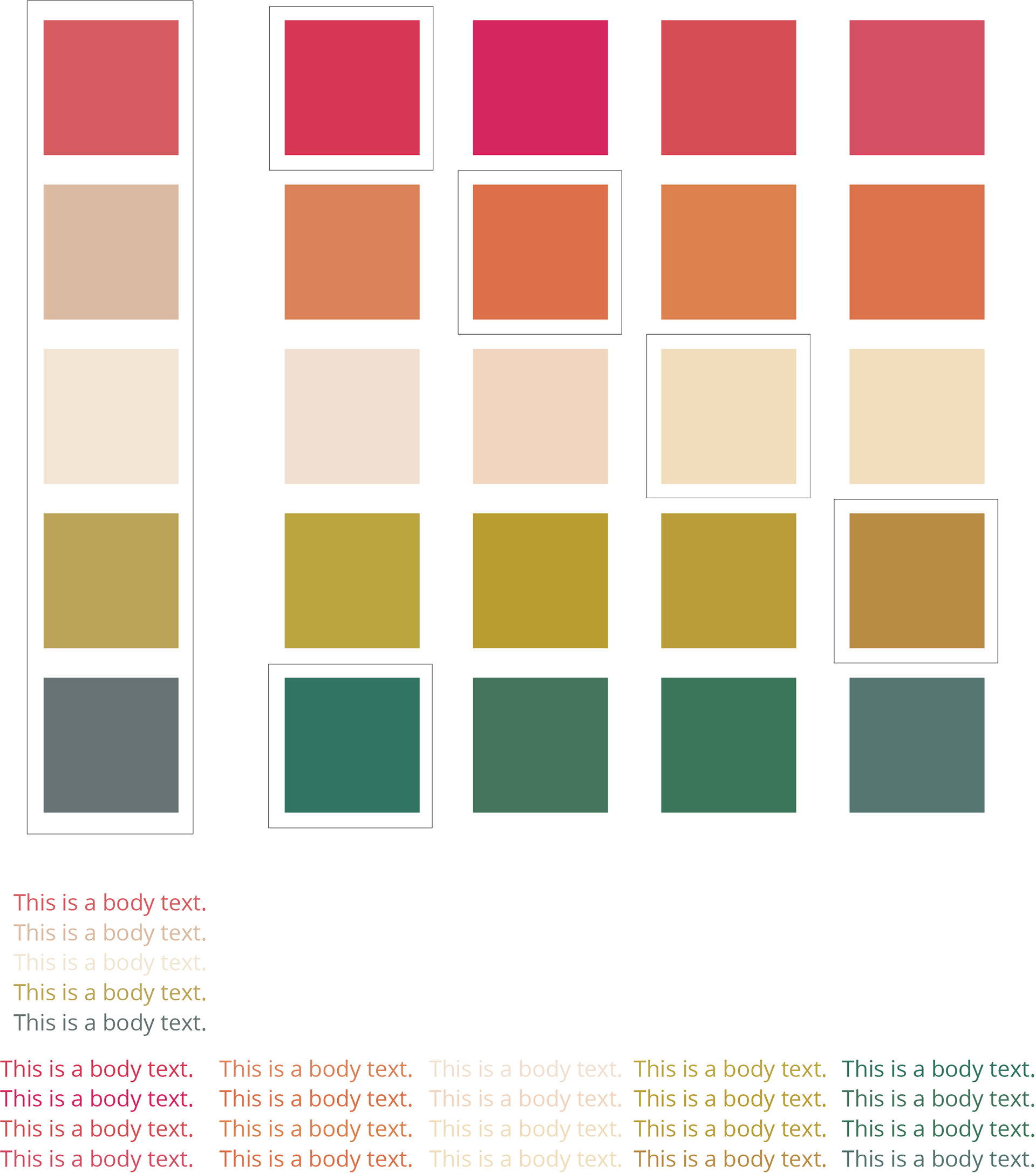 Color swatches from magazines and digitized colors
The colors I have landed upon are #d63854(magenta), #db6f48(orange), #f1ddbc(beige), #698d43(mustard yellow), and #317461(green). After settling on a color swatch, I added colors to one of previous exercises.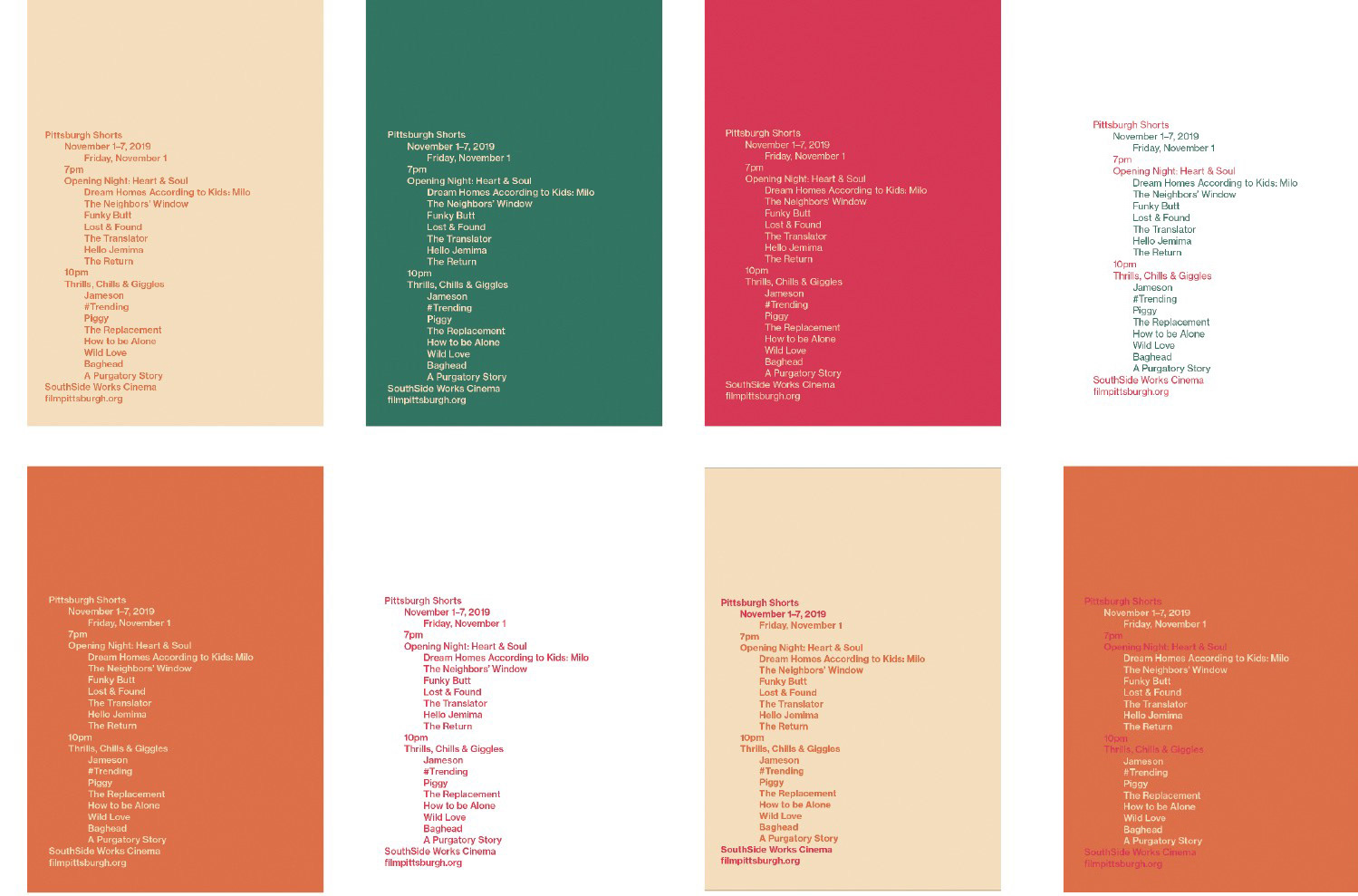 The following assignment was to explore hierarchy using scale. Contrast is very important for this exercise, and I learned that balancing places with high contrast and lower contrast is important to achieve a well-designed poster.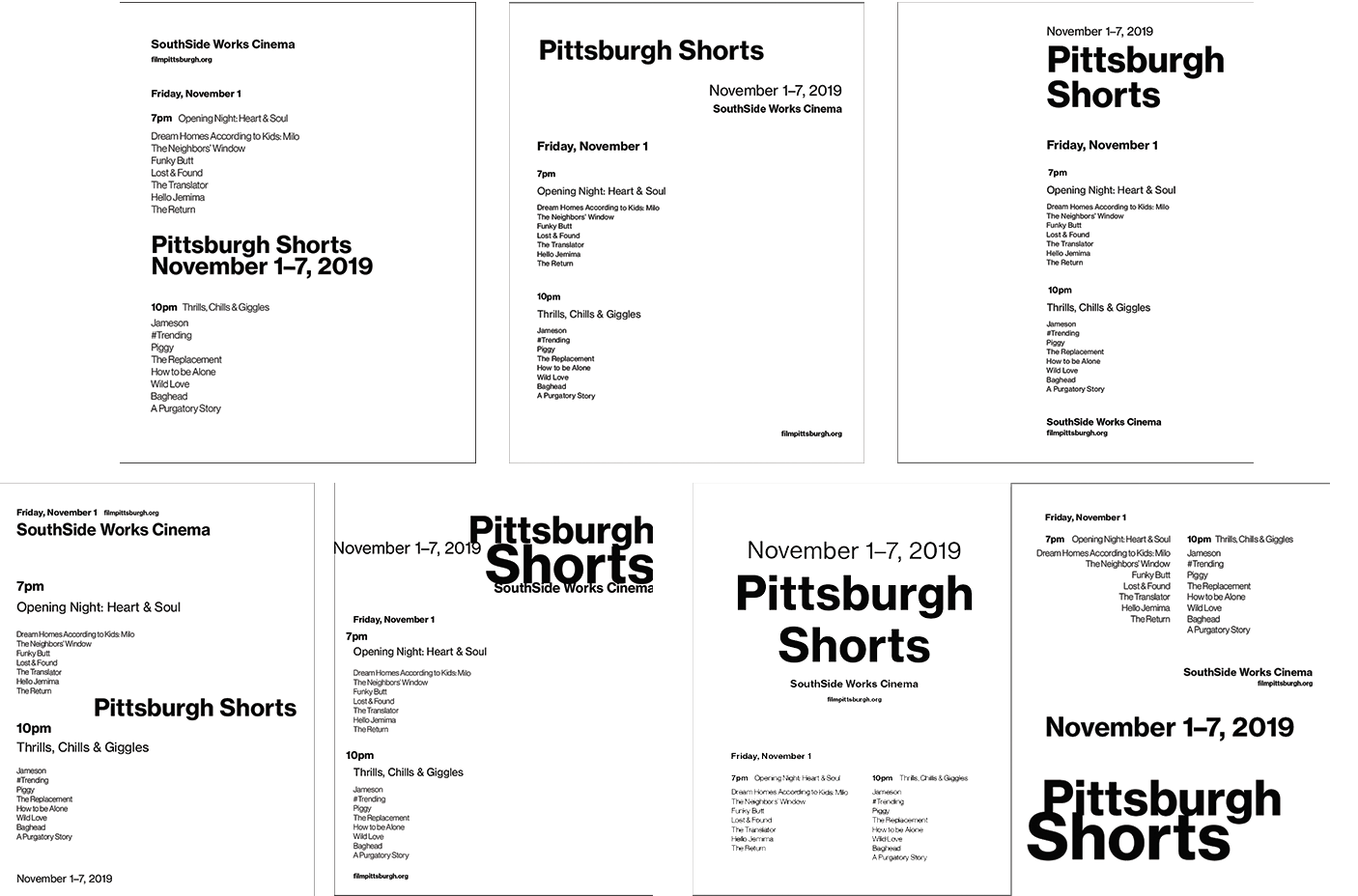 During this process, I realized that a picture does not have to completely fill the screen to convey similar effect. In some cases, not filling up the entire page with a photo may be even more effective.

04. Image Style Reference & Final Image
I was struggling with finding an image that I wanted to use. But after a while, I ended up settling on a specific style of images.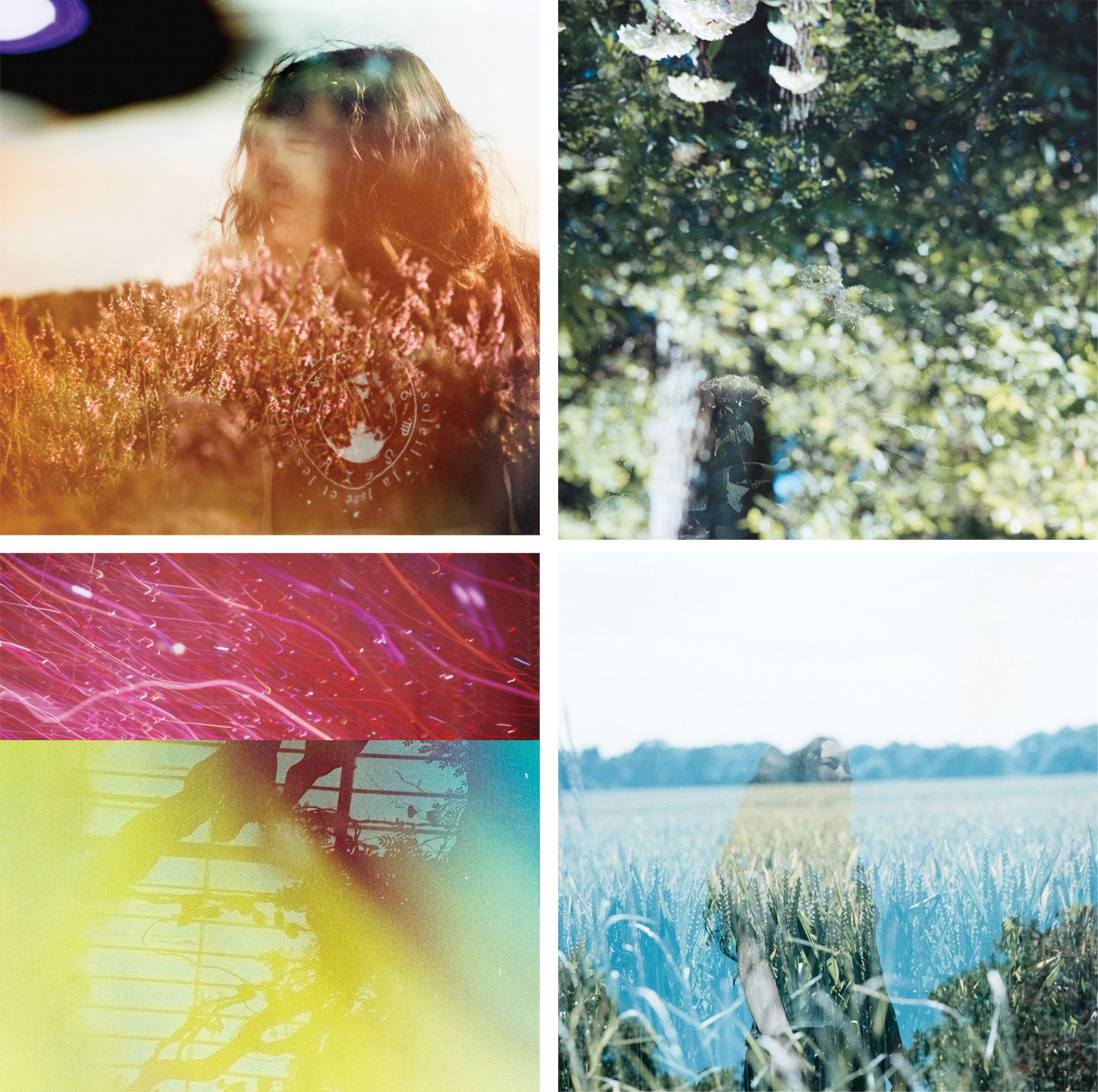 This style of film photography is colorful, abstract, and engaging enough to draw the viewer in. It adds a mysterious aspect to the image, making the viewer question what the poster is about. In addition to the stylistic aspect, I also found that the style does not hint a specific genre.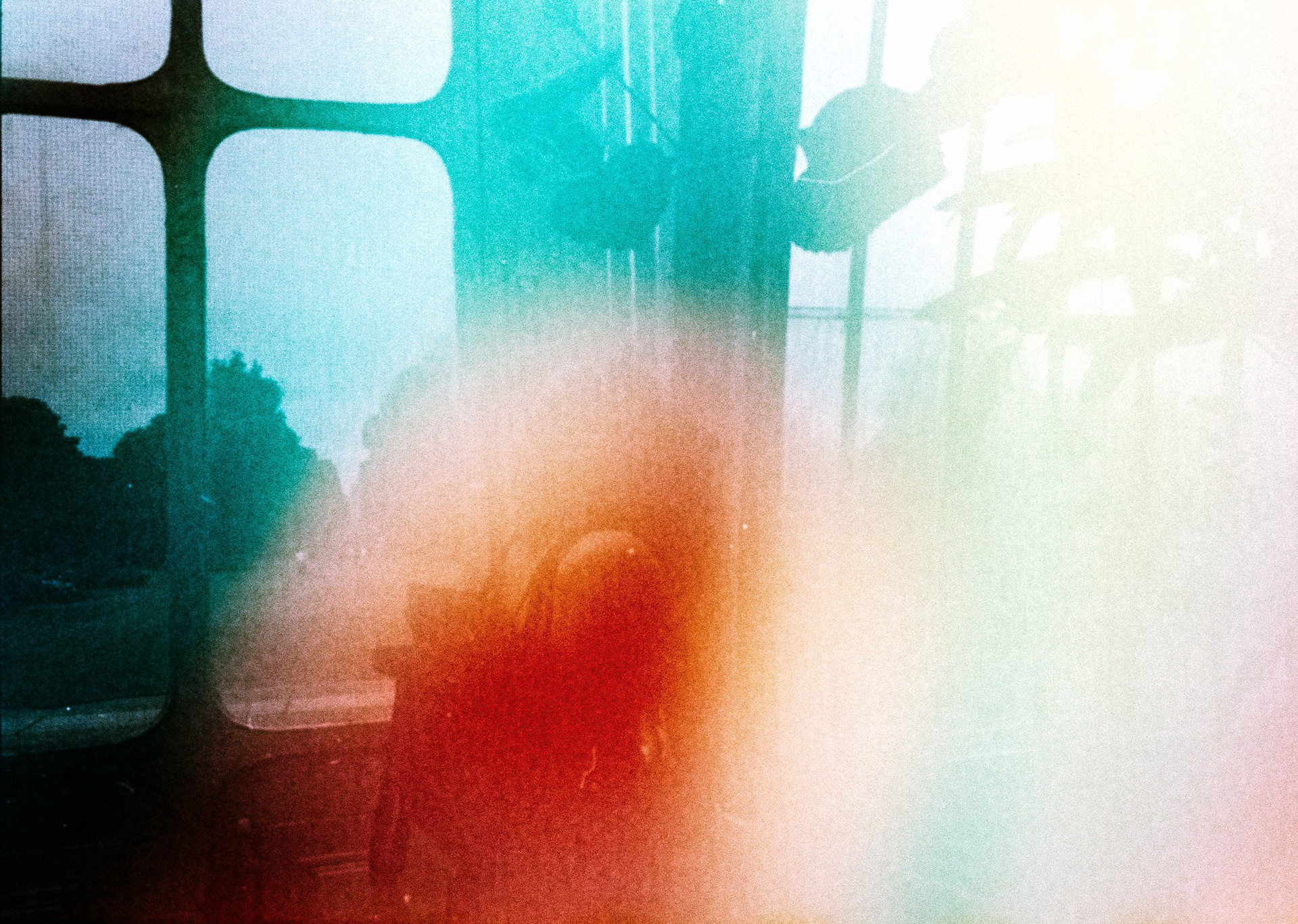 05. Body Text Grouping & R
educing Hierarchy
While working with the images, I realized that I was not providing enough visual cues to separate the film titles. So I created a series of body text layouts to see which design is more effective.
Additionally, my friend provided feedback that I should reduce the variety of type sizes and know what I want to prioritize. I stripped the colors and the background image to clearly visualize the hierarchy during the exercise.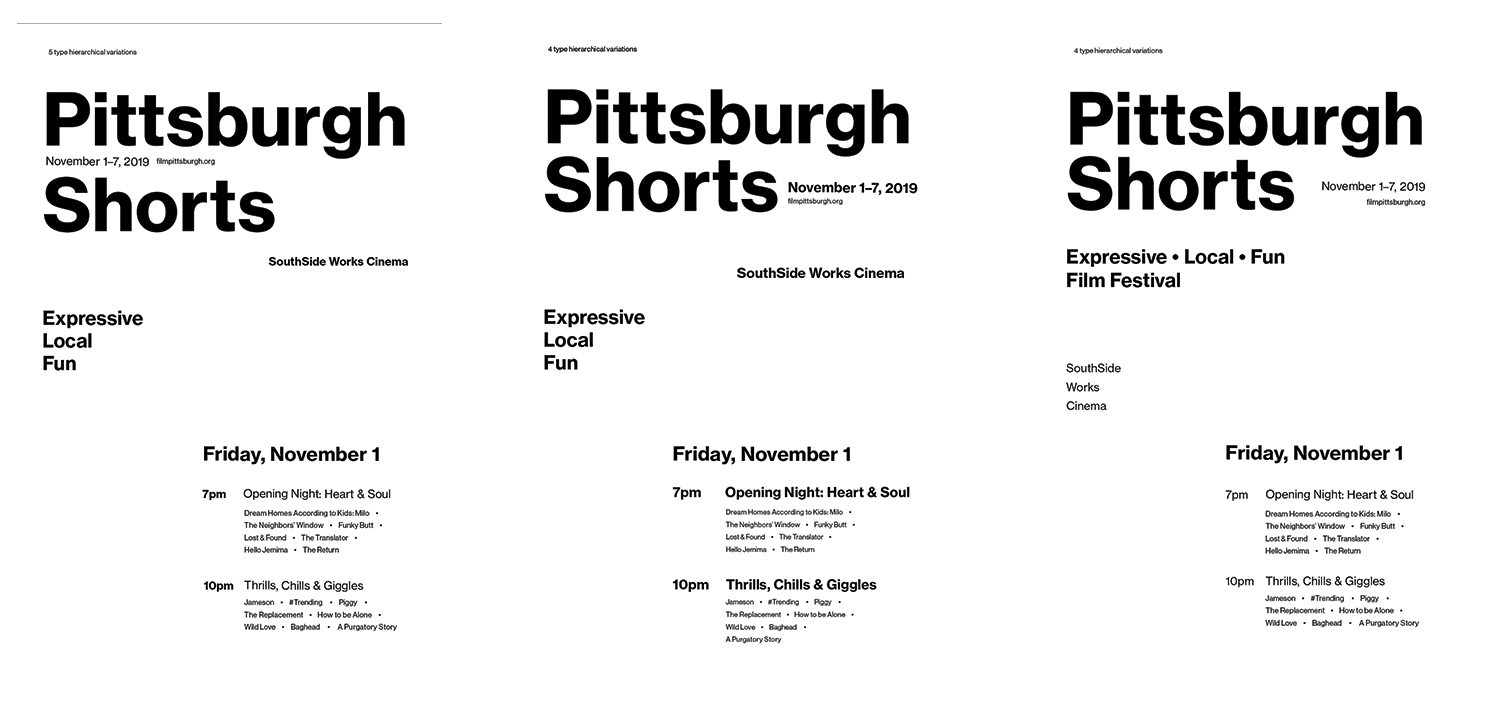 06. Incorporating Image into the Text
My early explorations included cropping and rotating the selected image, selecting colors that have enough contrast, and analyzing text–image relationship.


Reflecting upon the new layouts, I realized that I like the image squares that fill the page. Therefore, I decided to design using that crop and added colors back into it.